At the end of the year, content planning for the coming year is underway. But which topics are particularly relevant for marketers in 2023? And how can marketers concretely include it in their editorial plan? The article gives you an overview of the top content marketing trends for 2023.
Content Marketing Trends – Variety is Required
What do potential customers expect from good content today? You want to be entertained. They expect quality information. And above all, they want variety, both in terms of content and content format. This can also be seen in the content marketing trends 2023. Content marketing in the coming year will not be based solely on personalized content. Above all, different content formats will be relevant for companies in 2023 to inspire their target groups with new content. We have briefly summarized the 8 most important content marketing trends below.
1. Conversational commerce and voice commerce
The use of conversational commerce in the form of various chatbot integrations has become increasingly prominent in recent years. The Verizon study "The Human Connection – using technology to create a better customer experience" confirms, for example, that 56% of study participants like to use customer contact via chatbots. And last but not least, voice marketing has even become a component of B2B content marketing. The reason: communication between people and businesses is becoming more interactive thanks to voice-assisted formats. A chatbot, for example, improves the customer experience in customer service, as it is available to customers 24/7 and can provide direct assistance.
Voice marketing, on the other hand, is better known. People subconsciously remember more information when it is not just in text format, but is conveyed through spoken language. The subject of podcasts shows how popular voice commerce has become. In 2022, almost one in two people regularly listen to podcasts. In the last two years in particular, the use of podcasts has increased dramatically by ten percent and audio content has become increasingly popular. Conversational commerce and voice commerce are therefore important content marketing trends that are expected to continue to gain momentum in 2023. For marketers, this means: chatbots and podcasts must be integrated into the marketing strategy company content, if they haven't already. Also, it can be interesting to expand podcast appearances in particular.
2. Short Form Video Content
Another trend is short format videos. In our knowledge article, we have already covered TikTok marketing in detail. Companies should definitely develop short videos in content marketing. Statistics show that 87% of German consumers watch videos online. Social media platforms such as TikTok in particular, but also Facebook and Instagram are engines for short video content. They entertain customers and are quick and easy to capture. Exactly what customers expect from content. It's therefore not particularly surprising that social media platforms such as Facebook and Instagram are increasingly supporting videos – keyword: reels! In content marketing, marketers should keep in mind that short videos can be used in different ways. For example in the form of smaller image films. You can find out how to properly implement image movies in our white paper.
3. Social Commerce and Discovery Commerce
Social is king! It is one of the most important aspects of content marketing in 2023. The importance of social media is huge. But also the challenge of finding the right social media channels for your own target group(s). Does she prefer being on Facebook or does she prefer Instagram? How about LinkedIn? In this article, you will find out which social media platforms are particularly popular with young people. But it's not just the choice of social media platform that businesses should consider. Social commerce places special demands on content marketing 2023: it must combine content and commerce on social networks. Above all, this means that e-commerce systems and content marketing tools must work seamlessly with each other. Incidentally, this also applies to Discovery Commerce. In this case, content marketing content should inspire on social media and draw attention to (new) products – for example with a suitable short video.
4. Virtual Events
The corona pandemic has pushed virtual events forward and made them an important part of marketing. The importance of virtual events will remain in 2023. This is especially true for the B2B sector. But there is also good content marketing potential in the B2C environment with virtual events. It is not for nothing that large companies such as the pharmacy chain DM rely on short virtual events such as live shopping in combination with exclusive discounts. If a virtual event is a webinar, for example, the content discussed there can also be used for other content on your own website or blog afterwards. In content marketing, companies should therefore also think about special virtual events in 2023 and include them in the content plan.
Checklist for successful virtual events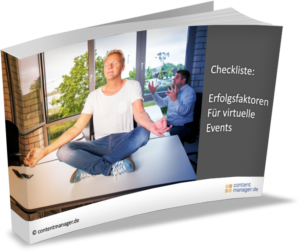 Do you want your virtual event to be a complete success? In our article we discuss the success factors of virtual events. We also provide you with a checklist for successful virtual events that you can download for free.
5. Digital Collectibles – NFT in Content Marketing
One of the latest content marketing trends for 2023 is digital collectibles, called non-fungible tokens (NFTs). Digital collectibles can be almost anything: exclusive discounts, special digital products like artwork, and more. So there are almost no limits to creativity in content marketing. However, successfully integrating NFTs into your own content marketing requires a lot of groundwork. Our 6 NFT tips for marketers show you what to look for when using NFTs in your content marketing. But then NFTs can be an interesting basic element in the content marketing mix for you and, last but not least, open up new target groups.
6. User Generated Content – ​​Focus on Community and Authentic Content
Authenticity – that's what customers are looking for. Instead of polished content, authentic content for 2023 is a priority for successful content marketing. In this context, user-generated content (UGC) is of particular importance. True to the motto: by customers for customers. Community is at the center of 2023 content marketing trends. For marketers, this primarily means not relying solely on company-created content. It is rather important to refer to customer reviews and actively involve the community in content marketing. Proper review management can thus become a valuable part of content marketing in 2023. You can learn more about review management and how to do it in our whitepaper.
7. New Content Marketing Channel: The Metaverse
The Metaverse is one of the digital hypes of 2022. As a new channel, it gives businesses plenty of options to grow their content marketing. The business relevance of the metaverse is still hotly debated right now, but marketers definitely need to weigh their content marketing options — and stay up to date. The Metaverse is already used by large companies such as Adidas or Zalando to present new products in a special way in the virtual community. It remains to be seen how the metaverse will develop in the coming year. But one thing is certain: it won't completely disappear from the scene in 2023. We therefore recommend our article on metaverse marketing with implementation tips.
8. Micro-influencers in content marketing
Influencer marketing will also be one of the content marketing trends in 2023. However, there is a shift: away from big macro influencers towards micro influencers. Why? Micro-influencers are more specialized than macro-influencers and are seen more as subject matter experts for a smaller target group. Their number of followers is usually between 1,000 and 100,000. The advantage: micro-influencers are considered more authentic and thus contribute to the content marketing trend of authentic content. For businesses, however, one thing is important to note: Those working with micro-influencers often need more influencer partnerships than macro-influencers. However, because the reach of macro influencers is more targeted, the ROI for them is often higher than for macro influencers. In this article, we've summarized how you can find the right influencers for your marketing.
Virtual influencers
In addition to "real" influencers, virtual influencers are an alternative or supplement to influencer marketing for businesses. Digital influencers are specially created by agencies and companies and can therefore be better controlled. However, they are often criticized for representing unrealistic ideals and ideas of beauty and negatively influencing young people in particular. Using virtual influencers can quickly become a tightrope walk.
Conclusion: 2023 content marketing trends intertwine
Content marketing trends 2023 offer a wide spectrum. In addition to well-known formats, new ones such as NFTs are gaining ground. The Metaverse offers marketers an additional content marketing channel for their business. UGC is increasingly replacing glossy formats in content marketing. And last but not least, many 2023 content marketing trends fit together as well. For example, NFT and Metaverse, as digital collectibles can not only be made available via already used content marketing channels, but also via the Metaverse – for example in the form of NFT-based accessories for avatars of the Metaverse. For marketers, content marketing in the coming year will certainly mean: acting more closely.