The development of the new and promising Tamadoge Game continues. Now the arcade game seems within reach. The developers have successfully integrated NFTs into the app. In this article you will find all the information about the development status of the game so far.
NFTs find their way into the game and new screenshots
In September, the Tamadoge cryptocurrency closed the presale early. It was a complete success. The trading town of the coin also went very well. TAMA's trading volume increased rapidly within hours.
So now the Tamadoge community is eagerly waiting for the announced Tamadoge game. Developers report on development status in regular blog posts. In a November 25 post, they announced that the NFT sector has now been successfully integrated.
"Our game team has perfected our arcade NFT integrations. To start, players can select any Tamadoge NFT they own and use that NFT in-game to reap all the stat advantages of the NFT. However, choose Different stats affect different skills in the game, so certain NFTs are better suited to certain games!
Another part of screenshots of our new arcade game "Tamadoge Run"!🎉

What do you think #TamadogeArmy?!🤔#memecoin #crypto #cryptocommunity #Tamadoge pic.twitter.com/MTRFHihDkx

— TAMADOGE (@Tamadogecoin) December 26, 2022
Players should be able to choose from their NFTs for the game in the future. You will be able to own several Shiba Inu cards and use them as you see fit in the game. These playing cards are not only unique in their appearance. They also vary in rarity and abilities.
Some dogs seem to be better suited to one play area than the other. Players might therefore consider adding not one, but two or three NFT dogs to their portfolios. This would result in a better selection for the different areas.
As already announced, several games are to be released at the same time. Initially, the development team seems to focus on arcade games. They also published some photos in their article. This gives the community an idea of ​​what the apps will look like.
Big NFT Drop via Opensea – this is how players get their personal Shiba Inu
Users wishing to play Tamadoge must own a Tama Dog. Players receive animals through the NFT sale. It started in early October, shortly after the presale closed.
A total of 21,100 NFTs are available. At first, the 100 "ultra rare" tokens were sold. These look particularly fancy, but weren't exactly cheap. One of these dogs costs 1 ETH.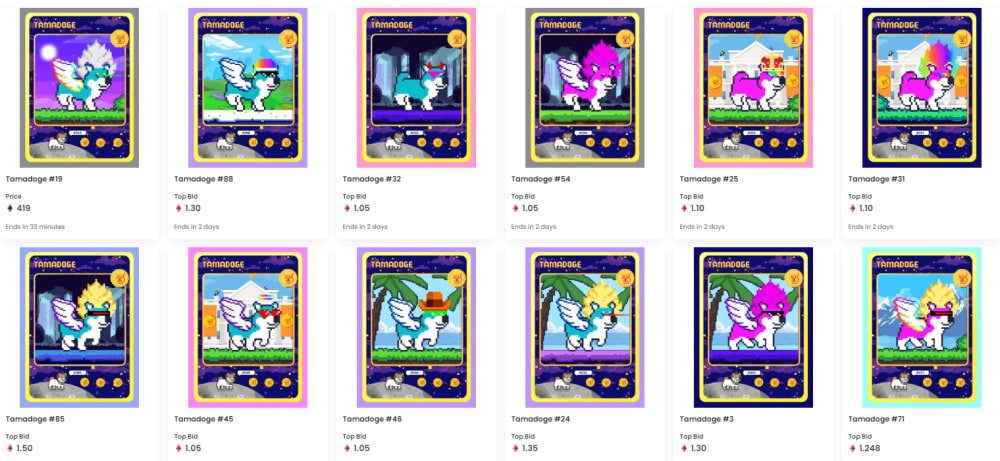 Then 1,000 rare Shiba Inus were available for buyers. These were available between 0.3 and 0.5 ETH. Now 20,000 regular NFT dogs are available for purchase. These cost between 0.175 and 0.195 ETH.
Opportunities to play to win have been expanded
In a previous article, the developers announced that the game mechanic for winning games will also be further improved. They plan to create several leaderboards. This should increase the possibility of making money with Tamadoge.
"Our rewards structure is also getting an overhaul from what we originally planned, which means you have a better chance of earning rewards with multiple game leaderboards. We hope this encourages you to play and explore different games !
Initially, it was planned to integrate the game mechanic to win in the player versus player mode. Now, however, arcade games should also receive multiple ratings. Players who pass these levels particularly quickly will receive Tamadoge Coins as a reward. There should also be a ranking.
In addition to arcade games, there will also be some kind of breeding game next year. Here, dog owners will be able to select an NFT dog that they wish to develop further. They will have to take care of him, feed him, brush him and groom him. Only dogs that have been well cared for can be developed in the future.
Developed dogs can then use their skills in player versus player mode. When battling another animal, they can award Tama tokens to their owner upon victory.
In the future, all Tamadoge games should also be available as a mobile version in a TAMA app. According to the developer white paper, this is expected to be released in Q3 2023.
Tamadoge Giveaway Promotions – $100,000 for Token Holders
The developers want to make waiting for the Tamas game a bit easier for the community. Therefore, they resort to a very popular marketing strategy. They are offering $100,000 of TAMA tokens through a giveaway.
Users can choose from nine different actions to participate in the raffle. They can increase their chances of winning up to 17 prizes. By liking, sharing or linking, the project receives additional and important attention.
📣BIG ANNOUNCEMENT #TamadogeArmy!📣#Tamadoge Merch is finally here! Available for purchase now on the #Tamadoge Goods store!🤯

From hoodies to phone cases, there's something for everyone! 🥳🎉

Anddd… You can buy using $TAMA! Grab yours today! 🤩https://t.co/pc5X4SZkHx pic.twitter.com/COttRdg3mA

— TAMADOGE (@Tamadogecoin) December 28, 2022
Entrants can only claim the prize if they already hold $100 worth of chips at the time of the draw.
The Tamadoge cryptocurrency has a very good outlook in many predictions. With the use case, the cryptocurrency is already clearly different from other tokens. With this, users get real use of the crypto and can do more than own it. The connection between a meme coin and the use case has created a unique cryptocurrency with Tamadoge. This puts it ahead of its competitors in the fall.
Coincierge.de compared the potential success of the coin with other meme coins. Experts assume that a value of one USD is possible next year.