Similar to the Play2Earn concept, users are rewarded for activity or achievement, except Move2Earn is not a blockchain-based video game, but a revolutionary fitness app from FightOut. The days when fitness enthusiasts and motivated beginners had to sign a long and often expensive contract are finally over.
but FightOut is more than sports as the app brings the subject of exercise, sports and fitness to the metaverse and offers a custom avatar that is rewarded for the real person's achievements with NFT.
Statista.de: 38% of respondents would skydive in the metaverse
Morning Consult: 27% of Millennials would watch a sporting event on the Metaverse
2 out of 5 respondents want an avatar to represent them in the metaverse
Sony wants to build a sports community in the Metaverse with Manchester United
FightOut outperforms all previous fitness apps
Out of the gym and into the metaverse
The rapidly growing segment of the classic fitness market surprises all experts and is nevertheless the long-awaited answer to a sensible and, above all, digital alternative to boring and stuffy fitness studios. Training in closed rooms, often even without windows or fresh air, no longer appeals to the younger generation. For older people, the emerging fitness chains were a good opportunity to balance a stressful work day.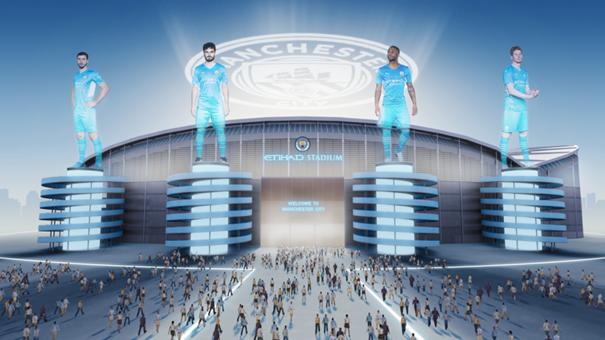 Source: https://www.sony.co.uk/presscentre/news/sony-to-become-the-official-virtual-fan-engagement-partner-of-manchester-city-football-club
You can stand silently on the treadmill, listen to music through headphones, or simply lift and lower the weights in front of you without communication. However, a new thought has emerged among millennials, namely that join social groups while exercising and motivate each other to complete challenges. With the digital transformation came the metaverse and many athletes were eagerly waiting for a proper solution that would combine all the desired aspects into one platform.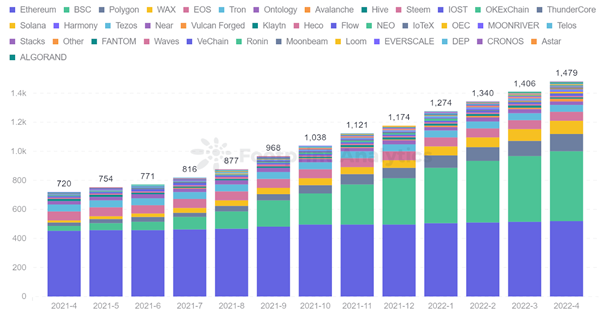 The chart above shows that it is mainly the Ethereum blockchain that developers are building the Move2Earn industry on. As part of the GameFi industry, we stick to it enormous growth potential to come, according to various analysts. The following graph shows the monthly investment volume in the industry.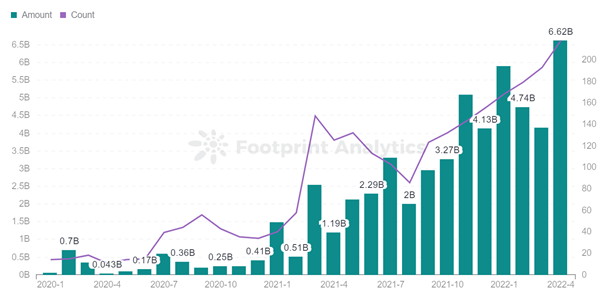 Realverse in the field of fitness
The fitness apps of the future were influenced by Play2Earn games like Calvaria or RobotEra. Crypto enthusiasts, but especially people who want to stay healthy and fit, can put on their NFT sneakers and get more exercise and fun in sports with the latest technology. Industry-specific development allows people to Rewards in the form of points, virtual money or rewards like NFT get. They make their own custom avatar that complements virtual competitions in the metaverse, while the real owner moves more and works on their fitness through video coaching.
With FightOut, the user's movements are transmitted to the avatar, With each step and real-life challenge, avatar recognition in the metaverse increases and rewards are earned for effort. These can be collected by the user or on the NFT brandt places, because as a digital proof of ownership based on a non-fungible token, it is transferable.
Move2Earn is becoming a mega trend
Non-fungible tokens play a major role in the Move2Earn megatrend as they make the representation of a real user via the digital avatar in the virtual space, the metaverse, is possible. But NFTs are also an opportunity for motivation and incentive, as they can be distributed to members as rewards. Whether it's to get a special price or to participate in an additional training.
Also followers of Fitness boxing comes to FightOut entirely at their expense, because the developers are not only from the financial sector, sbut straight to boxing. She and other special trainers with proven qualifications support the members, shape them and encourage them to a wholesome extent. They can also receive rewards for doing so, in the form of NFTs or new $FGHT utility token coins.
FightOut available in presale
The FightOut project is still under development, which is a great opportunity for investors willing to enter the world of crypto trading with small amounts. Currently, the presale phase 1 is released and investors can join for as low as $0.0166. Secure this price advantage now, even before the second phase of presales goes public at a higher price.
FightOut has already raised over $2.48 million in a very short time. This shows the great interest of the community and investors for the new mega trend Move2Earn. The next development should be the fitness app, with which users can then first login with their personally generated avatar Can enter. It's practically the gateway to the world of FightOut.
Already today it is clear that the FightOut token will go to exchanges at the price of $0.0333. This means that if you enter today and the coin will be listed as an IEO from April 5th, you have already automatically made a profit. In any case, stay with us, because then the project will only enter the main phase and further developments will be released.
Who are the FightOut Ambassadors?
TrEmayne DortchPersonal Trainer from Houston, Texas, first American Ninja Warrior 4, last American Ninja Warrior 11.
amanda ribasMMA fighter, born in 1993, flyweight UFC 2019
marshal of the savannahGreat Britain, born 1991, professional MMA fighter, pro since Aug 26, 2017, stats: 12-1, 10 KOs
Taila SantosMMA fighter, also from Brazil, stats: 19-1-1, 10 KOs, women's flyweight, professional since Nov 23, 2013
Advantages of FightOut
Users can earn the NFT issued in FightOut's app or platform, for example, by booking an additional training session with one of FightOut's ambassadors. The NFT can then be used on the platform to earn passive income.
FightOut combines GameFi, NFT, GPS technology and blockchain with fitness, sports and boxing. The platform caters to both newcomers and experienced fitness enthusiasts.
With FightOut's Companion Web3 Lifestyle app, users track their movements, which are then transmitted to their own avatar. For this you get NFT or $FGHT token in the app. Tokens can be exchanged for other services within the app. Other uses are planned, which will increase the demand for these tokens and thus stabilize the value.
How can users purchase the $FGHT utility token?
Currently FightOut is a project in the early stageallowing private investors to enter at very low prices per token. Currently, the price is only $0.0166! Interested investors can pay with ETH via credit card or buy $FGHT with USDT, Tether's stablecoin. After the end of the presales, the tokens can be requested and will then be sent to the connected wallet.
It is recommended to use MetaMask (desktop) or TrustWallet (mobile). The instructions are simply described on the website and currently there is even a 50% bonus.
FightOut Presale: Join the Move2Earn megatrend now!
Conclusion: Move2Earn has long been an established trend and not just temporary hype. People are looking for digital alternatives to classic fitness studios and, in addition to more social interaction, also want new reward and motivation mechanisms. the Blockchain and NFT are the ideal technologies for him and the Metaverse provides the virtual space in which fitness and sport will take place in the future. FightOut is available for pre-sale and is ideal for beginners.
The investment is speculative. When you invest, your capital is at risk. This website is not intended for use in any jurisdiction where the trade or investment described is prohibited and should only be used by persons and as permitted by law. Your investment may not be eligible for investor protection in your country or country of residence. So do your own due diligence. This website is provided to you free of charge, but we may receive commissions from the businesses we feature on this website.
About the Author: Stefanie Herrnberger works as a freelance speaker and writer. His many years of professional experience in the fields of blockchain, cryptocurrencies and NFT provide him with the ideal framework to report on news and developments in decentralized and central financial markets. Stefanie has been investing in cryptocurrencies herself for several years and therefore understands the challenges and opportunities for crypto traders.