With the new crypto year fast approaching, 2022 was undoubtedly not a success for investors considering Ethereum's annualized return. The value has been corrected by more than 60% in the current year. As of this writing, Ethereum price has once again fallen below $1200. Apparently, investors are currently trending towards $1000 rather than tackling bullish price targets. However, the situation is different for some crypto influencers, who are already announcing extremely optimistic price targets for the coming year.
"That Martini Guy", after all an influencer with nearly 500,000 Twitter followers, now predicts a price target of $4,000 to $6,000 for Ethereum – a deliberately chosen wide range. Nevertheless, this would mean more than a 3.5x performance against the current price at Ethereum. Is this really realistic or should we just ignore these price targets?
Ethereum Price Loses Over 65% in 2022: Mixed Feelings for the Year Ahead
With a current price of around $1195, Ethereum is down around 68% in 2022 when looking at the US dollar chart. Ethereum price is now over 75% off the all time high. In the short term, not much should happen in the current year. Over the past 24 hours, Ether has traded in a narrow range between $1188 and $1204. Nevertheless, the downside potential should be limited. Also for tomorrow, we predict Ethereum price above $1150, which at best may even be above $1200 again. Investors have mixed feelings about the year ahead.
Macroeconomics remains important, regulation in focus
Macroeconomic stressors dominated in 2022. Rising inflation prompted central banks to adopt aggressive tightening policies. Rising interest rates weighed on risky assets and at the same time fueled fears of a recession. Macroeconomics will also be important for Ethereum price in 2023. In particular, a potential end to the cycle of rising interest rates and a possible easing of monetary policy could mean a massive recovery for Ethereum.
The year 2022 has been marked by problems inherent in cryptography. Just think of Terra network, FTX crypto exchange, Celsius protocol and many more. In the coming year, states may move forward with cryptocurrency regulation – this will depend on whether specs are compatible or restricted, among other things.
Bears dominate in the short term: is the $1,000 test coming?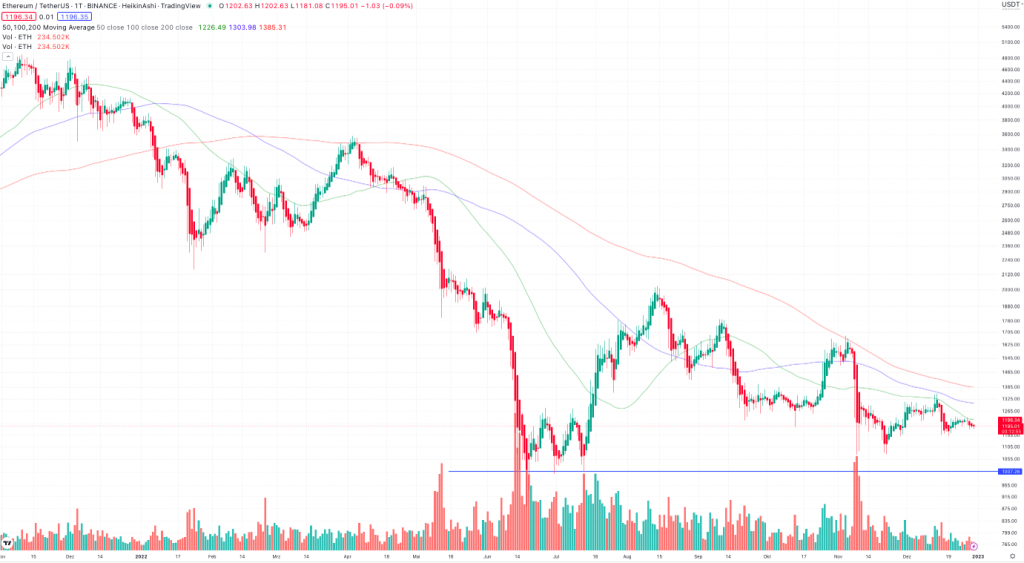 In the near term, however, bears are expected to remain dominant. The current Ethereum price has again fallen below $1200. There is certainly further downside potential and sentiment remains fragile. The $1000 test is not ruled out for the first few weeks of 2023.
Crypto whales hoarding ETH: bottom may be well advanced
But some on-chain data raises hopes of an advanced bottom. There is currently less ETH on exchanges than there has been in the past four years.
Meanwhile, crypto whales continue to hoard Ethereum and view the current price level as cheap. Recently, the number of addresses with at least 10 ethers has reached a new ATH.
Ethereum Price Prediction 2023: Social Media Reveals Crypto Sentiment
Ethereum price predictions made blindly in social networks have only one purpose: they must generate attention and clicks. Such Ethereum price predictions should be considered critically, your own investment case should never remain on such a basis. Nonetheless, social media can certainly serve a function, as it publicly represents investor sentiment, if you don't just look at a few crypto influencers. Search volume, sentiment, demand development and discussions must be taken into account in a modern crypto analysis.
Trade Ethereum now for free
Analyze Social Sentiment Even Better: The New Crypto Analytics Platform Dash 2 Trade
There is now an almost immeasurable variety of data for crypto investors that conventional private traders can hardly parse. Therefore, professional and affordable solutions are needed to identify the best cryptocurrencies. Dash 2 Trade offers multi-functional analysis tools that can be used to check the social sentiment of different coins, among others. To this end, a wide range of information is reviewed, summarized and presented in an attractive manner – the Dash 2 Trade dashboard is intended to be where investors and traders can get comprehensive information going forward. .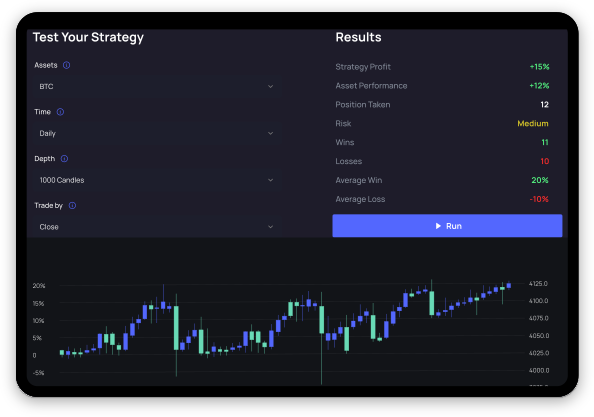 The Dash 2 trade presale is still ongoing – investors still have about seven days to secure the native D2T tokens. The ERC-20 token then grants access to the Dash 2 Trade ecosystem. In addition to price gains, holders thus get high-quality crypto analysis and curated trading signals, which can provide added value, especially in a tough market environment.
Here for the Dash 2 Trade presale
"Investment is speculative. When you invest, your capital is at risk. This website is not intended for use in any jurisdiction where the trade or investment described is prohibited and should only be used by persons and as permitted by law. Your investment may not be eligible for investor protection in your country or country of residence. So do your own due diligence. This site is provided to you free of charge, but we may receive commissions from the businesses we feature on this site.