Shares of fuel cell maker Plug Power started the week with another setback. In addition to the company's general difficulties, this is also due to the social unrest and protests in China, which are creating a climate of caution among investors. The big question now is whether Plug Power action can hold the price's last support zone, or if the worst is yet to come.
Various causes of bad prices
Apart from the difficult market environment, bad internal news is mainly responsible for the decline in the share price. Sales of around $900 million were actually expected for this year. But in October, it was learned that this forecast would probably be missed by 5 to 10%. Meanwhile, analysts at famed investment firm JPMorgan lowered their price target for Plug Power shares from $32 to $28.
At the so-called annual Plug Symposium, there was another disappointment a few weeks later. Hydrogen production, so important to the company, is unlikely to start as widely as expected in the coming year. Instead of the calculated 70 tons, only 50 tons can be produced per day. The announcement of a target of 200 tons per day by the end of 2023 could not change the negative reception given to this news.
With the tense situation in the world economy and the possible escalation of conflicts in China, there is now another factor. Although this does not directly affect the company, it still impacts the performance of the stock and pushes the price to new lows.
In fact, Plug Power should currently be one of the best performers on the market. After all, hydrogen stocks are hugely popular and the company's technologies are becoming more relevant and future-proof.

Founded in 1997 and based in New York, the company is primarily involved in the development and sale of modern fuel cells. These fuel cells are used in electromobility as well as in industrial trucks and in emergency generators. Plug Power is also a major player in the hydrogen production and distribution industry, developing hydrogen storage systems for this purpose.
Chart analysis leaves room for speculation
Despite these sectors currently in demand and served by the company, the Plug Power stock has failed to gain value in recent months. On the contrary, since its last high of almost 30 euros, which it reached towards the end of August, the price has fallen by more than 50% and is currently oscillating at 14.50 euros. A slight rally in prices took the stock back above the $17 mark by the middle of this month. But that couldn't be held.
The share price is at the antithesis of its historical record of more than 56 euros in February 2021. Currently there is only to move downwards and to hope that the support zone will resist around 14 euros. Should this fall, Plug Power's stock could quickly decline further. Prices around the yearly low of 13.43 would then be realistic if they did not go even lower.
Although sustainable investing is all the rage right now and the sector could hardly be more sustainable, you should be careful when investing in Plug Power right now. Prices could quickly drop even further, which could make a subsequent investment more sensible. Of course, for investments with a very long investment horizon, there is already a good opportunity to get involved with Plug Power if you have confidence in the future of the company.
IMPT – a system with a future
As already mentioned, it currently makes sense to invest in sustainable projects, companies and asset classes in all markets. The whole industry has future potential that should not be underestimated and, due to the difficult global economic situation, entry is now possible at low average costs. Especially in the crypto space, there are good opportunities for entry into cryptocurrencies and related projects due to falling prices. The IMPT is currently one of the most promising sustainability-oriented projects.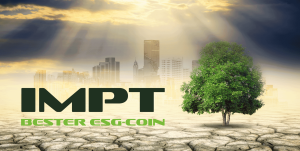 IMPT.io has set itself the goal of bringing together companies, projects and people who want to value sustainability in all areas of life. To this end, IMPT works with various well-known brands and wants to set up some kind of sustainable cashback system through its own platform. Part of the profit margin must be donated to charity. Buyers also receive the IMPT token as a reward. This token is deeply integrated into the IMPT ecosystem and can already be purchased in presale. By purchasing the coin, you can invest early in the future success of IMPT.io and participate in the project.
Every transaction is risky. No guarantee of winning. Any content on our website is for informational purposes only and does not constitute a recommendation to buy or sell. This applies to assets as well as products, services and other investments. Opinions expressed on this site do not constitute investment advice and independent financial advice should be sought where possible.
Click here to see the best crypto pre-sales that could be up 10x this year!