Anyone using a BitKeep wallet these days and finding questionable transactions on it should act as soon as possible.
More and more BitKeep users are complaining about crypto wallets being emptied by hackers. The reason for this is the manipulation of APK files that the attackers have previously released. Affected users need to act urgently.
Hackers Steal Valuable Assets From Crypto Wallets
Users of the decentralized cryptowallet BitKeep should be especially careful these days. Because reports of empty wallets are piling up right now. As a result, hackers seem to initiate many transactions that do not require verification.
According to the project's website, over eight million people use BitKeep to access over 80 blockchain networks, 20,000 dApps (decentralized applications), and over 245,400 different crypto tokens and 220,000 NFTs. Moreover, the software is available in 168 countries and 14 different languages.
Attackers circulated manipulated BitKeep APK
According to a post from the cryptowallet's official Telegram group, the hackers apparently circulated a manipulated APK file in order to steal the crypto assets of their victims.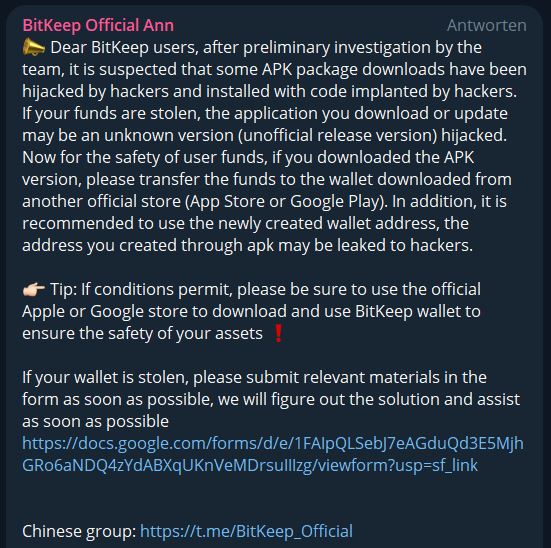 According to an official Twitter thread, BitKeep APK version 7.2.9, which is available in various manipulated versions, is affected.
Therefore, anyone who discovers questionable transactions in their wallet should transfer the assets they contain to another BitKeep wallet with a new wallet address as soon as possible. In the best case, users should download the app from a safe source like Google Play Store or Apple App Store.
So far, at least $8 million has been drained from BitKeep wallets
Users whose assets have already been stolen by attackers are encouraged to fill out a Google form. With the information collected, the project team wants to find a solution and offer the victims rapid support.
As reported by BleepingComputer, transaction tracking service PeckShield announced on Monday that crypto assets worth around $8 million have already been stolen. In addition to the stablecoin USDT, the cryptocurrencies BNB, DAI and ETH are also affected.
However, it is likely that the damage will continue to increase as attacks against BitKeep wallets are still ongoing. And unlike many other attack waves, this one doesn't require phishing.
camouflage.info