Dark clouds have gathered over Solana as this blockchain's DeFi ecosystem continues to plummet. The price of Solana's native token (SOL) crashed to $12 this week.
Since its all-time high, the price of this cryptocurrency has fallen by more than 95%. As a result, their total market capitalization fell to $4.4 billion.
Can Solana recover from an FTX crash?
Solana has been one of the worst performing cryptocurrencies over the past two months. The coin mainly suffered from the bankruptcy of crypto exchange FTX and its sister company Alameda Research.
Both of Sam Bankman-Fried's companies invested heavily in Solana and maintained close ties with Solana. The company behind this blockchain is registered in the Bahamas and has its office not far from the penthouse from which FTX and Alameda were run.
The relationship between theirs has also intensified thanks to Serum, the largest DeFi protocol on Solana. The serum was developed by a team associated with FTX who also held the private keys to the protocol. When FTX crashed, native serum tokens became almost worthless. The total value of deposits on Serum fell from an all-time high of $1.8 billion to just $438,000.
But the community behind Serum wants to build a new platform called Openbook. Openbook uses the same code as Serum. This project has only attracted $1.8 million in assets so far. We still don't know if it will ever succeed.
However, the biggest challenge for Solana is that the total value of deposits across all DeFi platforms in this ecosystem has fallen to $416 million. At its peak, Solana had a total value of over $12.2 billion, making it the biggest player in the DeFi industry. For Solana's price to recover, blockchain and DeFi platforms need to regain user trust.
Additionally, the price of SOL is under pressure as the trading volume of Solana NFTs continues to decline. Around $70 million worth of NFTs were traded in November. In December, that volume fell to around $41 million. At its peak, Solana processed over $303 million in NFTs.
Solana Price Prediction
The price chart shows that Solana has lost tremendous value since the collapse of FTX. More recently, the coin has formed a bearish flag formation, depicted in black. In price action analysis, this pattern is usually a bearish sign.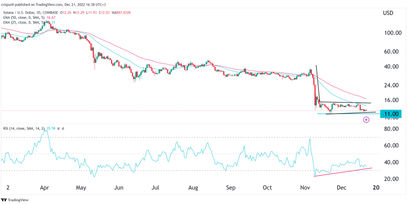 Solana's current price is below the moving average lines, while the Relative Strength Index (RSI) has formed a bullish divergence pattern. Therefore, Solana is likely to continue falling as sellers target the next key support at $9. A break above the resistance at $14 would signal that the trend is reversing.
On this page we explain how to buy or short sell Solana.