Cardano (ADA) price has continued to decline recently as the crypto market faces further selling. ADA plunged more than 16% to $0.25, well below the all-time high of $3.
The total market capitalization of this cryptocurrency has fallen from over $90 billion to around $8 billion.
Cardano ecosystem challenges
Cardano, like other blockchains, has had a hard time this year as many investors have lost faith in the industry. The clearest example of this, in the past 30 days, crypto investors withdrew nearly $11 billion in assets from the world's largest crypto exchange, Binance, according to data published by DeFi Llama.
These coins were either sold or simply moved into self-custody due to fears for Binance's future. Last weekend, the firm also lost its auditor Mazars, who abruptly announced that he would no longer offer his services to crypto projects.
The situation surrounding Binance is negatively affecting the prices of most cryptocurrencies, including Cardano. The price of ADA has also fallen due to the ongoing challenges in its ecosystem. A closer look at DeFi platforms on this blockchain shows that the total value of deposits has fallen from over $400 million to around $65 million. MinSwap has the largest market share in this area.
Meanwhile, Cardano's NFT volume also dropped. According to CryptoSlam, Cardano NFT trading volume fell to $8.9 million from over $23 million in October. Only $4.9 million worth of NFTs have been traded in the current month. So if this trend continues, we will see the second consecutive month of declines. Cardano is still the fifth largest NFT chain. In total, over $429 million worth of NFT Cardano has been sold.
Will Meld save ADA?
Cardano proponents cite Meld as a possible future catalyst for ADA. Meld is currently the second largest DeFi platform on Cardano with a combined value of over $12 million. It is a rival of other credit protocols like Aave, Tectonic and Compound. Analysts believe Meld could see more entries in 2023 due to its growing popularity.
This week, Meld announced its partnership with Multichain – a platform formerly known as Anyswap. Multichain is a cross-chain solution that allows users to pledge digital assets. Through this partnership, Meld will also be able to support Ethereum and Cosmos tokens. The total value of deposits (TVL) on Meld has increased by 27% in the last 30 days.
Cardano Price Prediction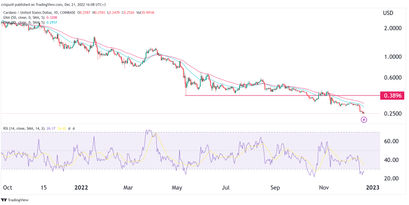 Looking at the price chart, we can see that the price of ADA has been in a strong downtrend for the past few months. The coin slipped below the key support of $0.3896, the low from May 12. At the same time, Cardano's price fell below the moving average lines, while the Relative Strength Index (RSI) fell below the oversold level.
Therefore, Cardano's outlook remains bearish. If the price drops further, the next key support will come in at $0.20.
In this guide, we explain how to buy or short sell Cardano.