"The next few months will be bumpy, but we will get through this difficult period." If CZ has one thing to do right now, it's to reassure employees and the global public. The collapse of FTX is hard on the bones of the crypto industry, and more reports are coming in every day that see other crypto exchanges and trading companies such as Gemini, Genesis or more recently Bitvavo to shiver. And it also begs the question: how stable is market leader Binance?
CZ, of course, is Changpeng Zhao, co-founder and CEO of Binance, and the big star in the crypto world since 2022 at the latest. Not only has it invested in "Crypto Twitter," the leading crypto exchange wants to prevent both crypto startups and Bitcoin miners from sliding into crypto winter with bailouts worth billions. But can Binance do this at all?
Even for simple questions – where is the company's headquarters located? – there are no clear answers. Simply: "Binance is not a Chinese company. I have to keep repeating this because I look Chinese. I have been Canadian for 30 years," says CZ. It's probably more like this: Binance is a remote first company that has grown across borders over time and is now desperately looking for an official headquarters between Paris and Dubai. More recently, the head office was rumored to be in the tax haven of the Cayman Islands, but that will soon change. Status? Uncertain.
Confidence in the market leader is declining. Since the collapse of FTX, analytics firms have been keeping a close eye on the amount of money flowing in and out of the crypto exchange. Blockchain analysts at Nansen in particular have targeted Binance and continuously release information about Binance's crypto holdings. The next punch in the pit of the stomach this Saturday: "Binance had a cryptocurrency inventory of $69.5 billion a month ago, which is now at $54.7 billion, which is due to large pullbacks and price fluctuations," he currently says. from Nansen. Means: Binance crypto holdings decreased by $14.8 billion in one month – because users withdrew BTC and Co., and because the value of crypto assets generally fell. A dangerous downward spiral.
Now everyone is looking at Binance: how stable is the leading crypto exchange?
American justice has something up its sleeve
So much for what is happening within Binance. In the outside world, many are currently waiting for the US Department of Justice to strike soon. As noted, investigations have been ongoing against the company, which has been operating in the United States through its subsidiary Binance US, for four years, i.e. since 2018. The central question is apparently whether Binance could have violated US secrecy law. banking. In fact, crypto exchanges are required to register with the Treasury and meet anti-money laundering requirements. According to a Reuters report, lax controls could have allowed Binance to be used by hackers, scammers and drug dealers to launder $2.35 billion worth of crypto assets (Trending Topics reported).
According to Reuters, the reason no charges have been filed in the United States is that US Justice Department prosecutors have not yet agreed whether there is already enough evidence to warrant legal action. According to Reuters, Binance's law firm, Gibson Dunn, has met with officials from the US Department of Justice on several occasions. The talks are apparently aimed at reaching a settlement. A criminal prosecution would have devastating consequences for the crypto market, already hit hard in 2022 by rising US interest rates, Terra/LUNA and FTX. CZ would also avoid legal consequences for himself. Recently, CZ even traveled to the United States, his spokesperson confirmed. For what remains unclear.
More and more people are currently doubting the stability of Binance. This is especially seen in the fact that the price of the BNB token (the exchange token of Binance allows, among other things, to reduce trading costs) loses more value than many other crypto assets. The BUSD stablecoin, which is pegged to the US dollar, does not necessarily seem safe either. The amount of BUSD dropped sharply this week from $22 billion to $18.5 billion. Attention: BNB and BUSD are 2 of the 6th largest crypto assets in the world, together they have a market value of $56 billion. This represents approximately 7% of the total market capitalization of the crypto market.
Here are the year-to-date developments for BNB and BUSD:
BNB Price History:
Market capitalization in USD: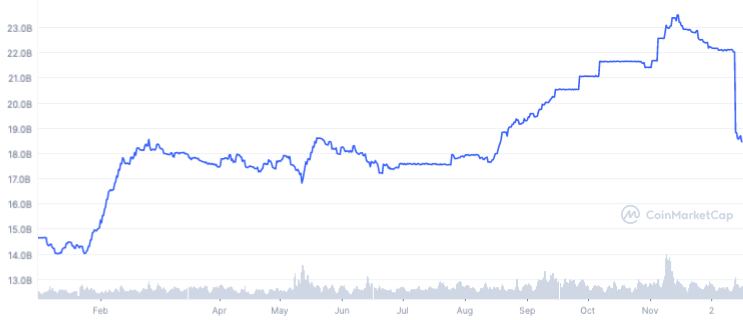 More and more problems with the "Proof of Reserves"
If these two crypto assets suddenly collapsed, it would be another disaster for the crypto market itself. But Binance is also critical to the system for other reasons. With a trading volume of $12 billion in the last 24 hours and 15 million weekly user visits, the crypto exchange is around six to ten times larger than competitors such as Coinbase, Kraken or KuCoin. Binance is a bit like the Google of the crypto world – according to CryptoCompare, it had a market share of almost 53% among centralized exchanges in November 2022 – an all-time high.
CZ, meanwhile, is modest, short on interview after interview, tries to calm down, champions the "Adoption" mission, and recently praised ex-President Donald Trump for bringing NFTs to market. . "FUD", meaning "Fear, Uncertainty, Doubt", is what Binance critics would spread there. Meanwhile, his company is struggling to provide the right proof that all of the user's crypto assets are there and not disappearing into financial holes and dodgy deals, as is the case with FTX. But the thing with "proof of reserves" is difficult.
At first, the way Binance implemented its Proof of Reserve (PoR) system was not enough for the competition; then auditor Mazars suddenly deleted his PoR audit report for Binance. Mazars also no longer wants to do test reports for other crypto companies. Mazars became world famous because he was hired as an accountant by former US President Donald Trump.
This in turn raises the question of whether Binance's 575,742 Bitcoin users are really there and accessible. As is often the case with Binance, there is no clear answer as to why the listener gave up. CZ is currently invoking the power of blockchain on Twitter: "Blockchains are public and permanent records. It is the most verifiable register.It is doubtful that this is sufficient for users and authorities.
Binance: New "Proof of Reserves" only for Bitcoin, critical competition