Fan tokens aren't just a topic of conversation at the FIFA World Cup. However, coverage of major sporting events should always grab attention. Socios was founded to keep them running all year round. The company provides a platform to support sports teams using the native ERC-20 Chiliz token. But there's more to Socios, as token holders also have a say in the day-to-day affairs of their favorite club.
The CHZ token is the internal currency for fans on Socios
Sports stars, teams and artists are supported via NFT
Fan Tokens let fans have a say in small decisions
Twitter: 321,535 followers
What's new with Chiliz?
CHZ is currently the 47th best performing cryptocurrency by market cap. The great popularity is manifested, for example, in the large trading volume, which exceeded 152 million euros in the last 24 hours, which is 116.67% more than the previous day's volume. The volume is mainly achieved through centralized exchanges, the CEXs. The price is currently €0.1291 for the CHZ.
Since Chiliz has no serious competition in the market, its potential is extremely high. Many Chiliz predictions are based solely on its position in the market, as the Socios portal is one of a kind and was able to hire Lionel Messi as an advertising face, for example. Of course, it got a lot of media attention, which brought in a lot of new customers.
Does Chiliz have potential?
Non-fungible tokens, the technology Socios also uses, provide unprecedented opportunities for fans to interact with their teams or sports stars. Increasing digitization is also having an impact in this area, as for years local fan shops have been a coveted touchpoint and a must-have when traveling around town.
Today, platforms like Socios are the trend where cryptocurrencies enable interactions that go way beyond buying a t-shirt. Above all, the co-management right of token holders is part of the secret of Socios' success. Even though these decisions are mostly about rather insignificant day-to-day situations, fans really appreciate the opportunity to do so.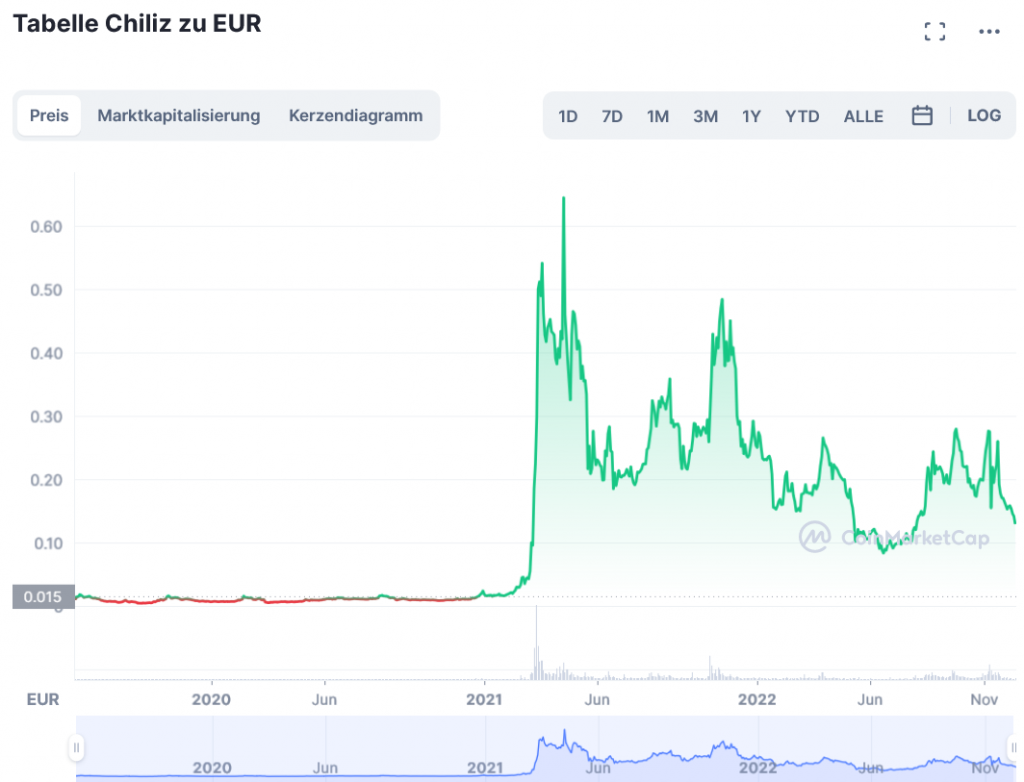 Chiliz also has potential as the field of esports and GameFi continues to grow. Today's gamers no longer have to go into garages or children's rooms to fight their battles in peace. Entire exhibition halls can be easily filled, for example at Gamescon in Cologne, which is after all Europe's leading trade fair for digital games.
There is a large community in the starting blocks for esports as the market is currently growing like no other in the entertainment industry. According to the PwC Digital Trend Outlook 2020: E-Sports study, the growth and the fact that esports is becoming more and more professional is also the reason for the current trend and growing enthusiasm. Interestingly, according to the study, Germany is the largest esports market in Europe.
Chiliz forecasts until 2030
| | |
| --- | --- |
| Prediction Chiliz 2023 | +0.27€ |
| Prediction Chiliz 2024 | +0.46€ |
| Forecast Chiliz 2025 | +0.67€ |
| Forecast Chiliz 2026 | +€0.98 |
| Forecast Chiliz 2027 | +0.74€ |
| Forecast Chiliz 2028 | +0.83€ |
| Forecast Chiliz 2029 | +€0.92 |
| Prediction Chiliz 2030 | +€1.12 |
Chilli Alternatives
When it comes to fan tokens, Socios is unquestionably one of the top fan tokens. However, when it comes to GameFi, a few ongoing projects are currently available for pre-sale. A crypto pre-sale like those from Calvaria and RobotEra brings key benefits to investors, namely these:
Automatic increase in value during pre-sales phases
Early investment in a young company
Right to have a say in further development
Buy coins before official listing on crypto exchanges
Access restricted to a select group of private investors
#1: Calvary
As an NFT game, Calvaria follows the basic idea of ​​the Socios platform, to create direct added value for players or token holders with non-fungible tokens and to allow interaction on a virtual level. Calvaria is a strategic NFT card game with characters inspired by Spanish mythology. The game is about underworlds and the undead fighting for the future.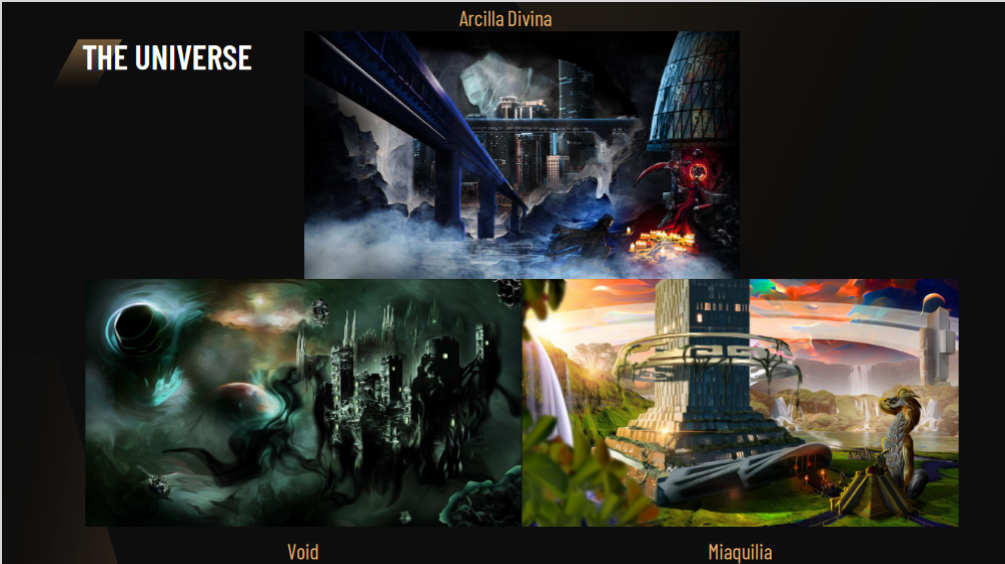 As a player, token holders have special advantages in Calvaria, as the NFT available in the game grants exceptional abilities to your characters. NFTs are not only associated with direct added in-game value, but can also be collected, traded and traded through NFT Marketplaces, which can provide additional revenue.
Calvaria is currently still available for presale, but the fifth and final phase is already running at a price of $0.03 per RIA token. So be quick and grab it before you list it, because experience has shown that cryptocurrency prices increase immediately after inclusion in cryptocurrency exchanges.
Enjoy the incomparable pleasure of Calvaria. Hurry, sold out soon!
#2: RobotEra
Gaming and the world of finance have also come together in one project at RobotEra. The blockchain game also uses NFT to reward players or provide them with special abilities. These are dedicated to robots, because from the start of the game each new player chooses one of the 7 groups of robots to which he will now belong.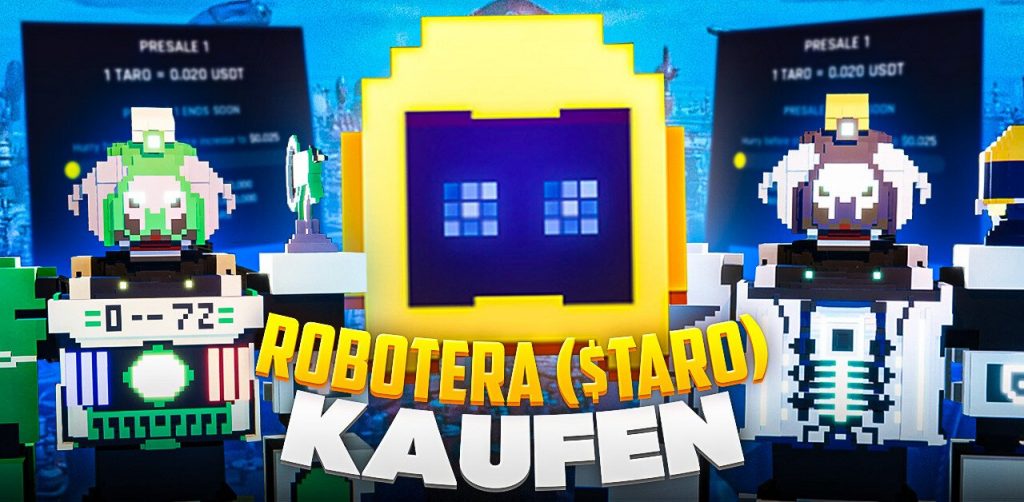 Next, he enters the battle for the planet Taro, which lies fallow. After years of fighting, some robots remained, the rest of the partly humanoid creatures did not survive the fights. It is now a question of helping town planning to bloom again and to be repopulated. Create civilizations and collect NFT with special traits for your team.
You can also sell RobotEra's NFT on marketplaces and earn passive income. Take advantage of RobotEra presales and benefit from low entry prices before $Taro goes to crypto exchanges as well. Get started now with RobotEra presales!
Conclusion: The future of Chiliz looks bright as sport is a common language around the world and inspires millions of people. Fans increasingly want to interact and have a say in one or another everyday life situation. This ties fans more closely to their favorite teams and increases reach for clubs and athletes. With Calvaria and RobotEra, there are two interesting alternatives to the Chiliz Coin on the market that offer private investors particularly low entry prices.
The investment is speculative. When you invest, your capital is at risk. This website is not intended for use in any jurisdiction where the trade or investment described is prohibited and should only be used by persons and as permitted by law. Your investment may not be eligible for investor protection in your country or country of residence. So do your own due diligence. This website is provided to you free of charge, but we may receive commissions from the businesses we feature on this website.
About the Author: Stefanie Herrnberger works as a freelance speaker and writer. His many years of professional experience in the areas of blockchain, cryptocurrencies and NFT provide him with the ideal framework to report on news and developments in decentralized and central financial markets. Stefanie has been investing in cryptocurrencies herself for several years and therefore understands the challenges and opportunities for crypto traders. www.blockchain-technology.digital