Decentralized Autonomous Organizations (DAOs) have been completing the world of established forms of organization for several years. Timo Springer and Maximilian Möhring use the twire community they founded to explain the particularity of this new structure.
The term DAO first appeared on it-daily.net in 2016. At that time, Christopher Jentzsch, CEO of Slock.it & The DAO, was thrilled to receive the 2b AHEAD Innovators Awards. He had created something that future generations will see as the prototype of future companies: A company without employees! Timo Springer and Maximilian Möhring see the DAO structure of their twire community as a clear competitive advantage.
What is a DAO?
The abbreviation DAO stands for Decentralized Autonomous Organization. Simply put, DAOs are online communities with a shared digital bank account.
These communities pursue a common mission and collaborate on the basis of defined rules and transparent decision-making processes. DAOs are organized through jointly defined and automated business processes.
DAOs are usually blockchain-based so that they can track all decisions and value streams in an understandable way and allow members to have true ownership.
What does the DAO do, what should a GmbH do etc. ?
It is impossible to answer this question in general, because there are a large number of legal constructs for (paper) DAOs.
In the case of the twire community, the DAO itself is currently developing into a Swiss association of which all DAO participants will be members. In our setup, the classic GmbHs are the interface with our customers in order to be able to draw up offers and invoices.
We quickly understood that a reliable legal basis is essential to be able to work with large companies.
How do top experts and the twire community meet?
Typically, top experts in the DACH region find the twire community. Of course, there are also times when we are explicitly looking for members with certain skills and motivations. In the summer we notably looked for community managers for our projects and luckily we found them.
The twire community has a strong position in the German Web3 scene, as many familiar faces are members and we have completed a large number of projects. This, coupled with an eye-catching jersey linked to the NFT member's membership via an NFC chip, ensures that we also have a strong presence at offline events and conferences.
How does project management and communication between clients and developers work?
We work with proven agile methods such as sprints and mostly organize asynchronously using tools such as monday (project management), Miro (collaboration), Discord (communication) and Notion (documentation). It's important to us that the tools have strong APIs so we can automate a lot of things. Why is this particularly important to us? Our community is spread all over the world and brings with it different time commitments. Asynchronous work is therefore crucial for success.
Why do you use Discord?
Discord continues to be the platform that most Web3 communities call home. The great thing about Discord is that powerful APIs connect to a variety of tools and we can add all kinds of features and configurations with Discord bots.
In addition, our customers often request Discord for assistance, so we say that we are very familiar with the tool.
Why do the best experts prefer to work in a DAO rather than as employees in a company?
The good thing about joining the twire community is that members retain their precious freedom as a freelancer and at the same time have a team around them through the community. We regularly start activities and projects together and you are not alone when it comes to sales, you can count on many different people. We combine the best of both worlds.
Our thesis is that we can recruit much better talent in the highly flexible DAO setup than in a traditional agency approach. Many members are founders, freelancers, content creators or moderators – they usually don't want a contract at all.
How does contracting and remuneration work?
Project tasks (premiums) are traded on our internal marketplace. Concretely, this means that premiums are entered on the one hand (this is what bounty issuer) and these are edited on the other side by the members of the DAO (that's what bounty hunters).
Premium issuers are responsible for sales. As soon as an offer is ordered, the project tasks it contains are placed on the market as premiums. The tasks to be completed, the time period, the remuneration and the resulting twire experience points (our gamification system) are noted in the bonus. Bounty hunters can request it and the bounty issuer decides who can change the bounty. After completing the bounty, the bounty hunter is paid by the bounty issuer and twire experience points are credited.
Bounty Hunter Profile by Timo Springer: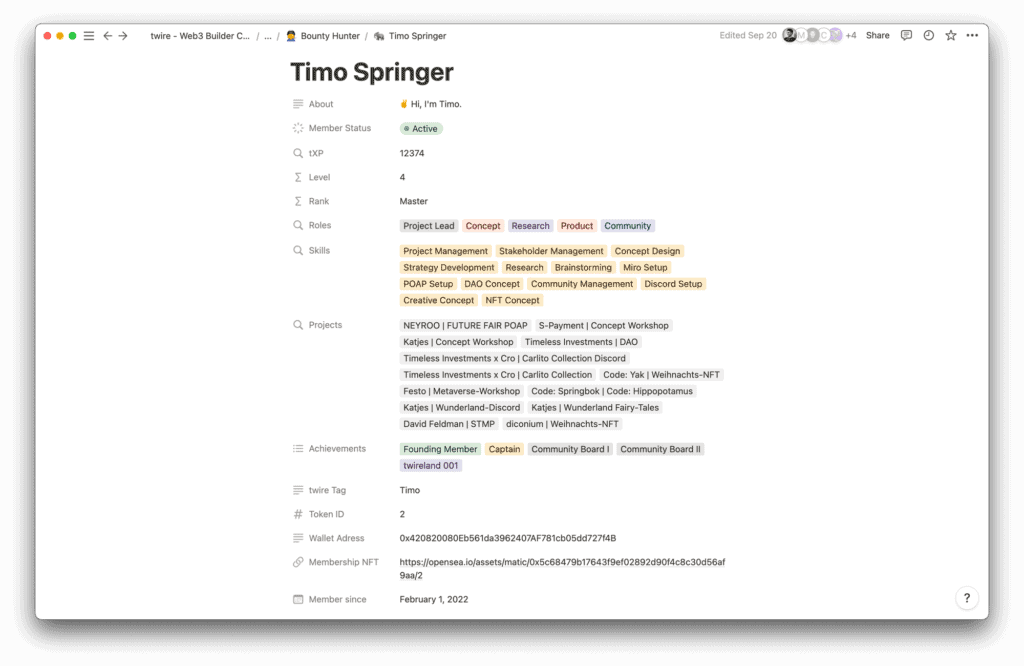 Exemplary Project Bonus: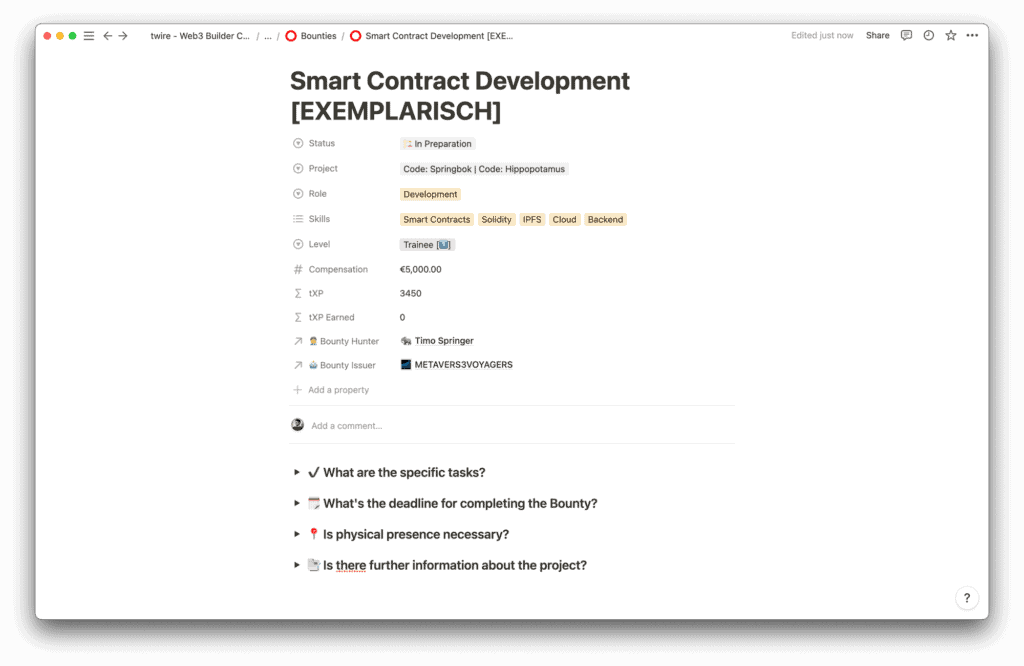 Outlook: what are the next steps for twire?
It is essential for us that we finalize our basic processes, legal framework and governance mechanisms in the weeks and months ahead.
And of course we also plan twireland 002 🎉
Many thanks for the interview.