After the third quarter figures, META stock has slumped again – since the end of January, the price of the social media giant has fallen by more than two thirds
Operational activity is sick, investments in the Metaverse are under great pressure
Since a change of course is not in sight, it will probably be some time before META receives investor approval again.
Prior to Wednesday's earnings release, the bullish case for Meta Platforms (NASDAQ:) rested on two pillars. First, the company's disappointing half-year results (sales were up less than 3% year-on-year) do not indicate an irreversible decline in business. Second, the company's significant investments in its Metaverse project could be reversed if earnings pressure becomes too great.
Considering META was trading at 13 times this year's earnings – and only 12 times when considering cash minus balance sheet debt – these valuations suggested significant upside potential. Many Wall Street analysts believed in this prospect: after all, the average price target for META shares indicated more than 60% upside potential over the next 12 months.
In the long run, the above thesis may still apply. In the medium term, however, the third quarter figures on Wednesday afternoon mean that the thesis has suffered significant cracks.
Meta platforms weekly chart.
Source: Investing.com
Issues with all meta family apps
Earnings per share fell 49% year over year. As we will see, investment in the Metaverse is not the only factor.
A noticeably penalizing factor was the depreciation of the operating leases item. And in what Meta calls the "app family," the results were also disappointing.
Currency-adjusted sales increased by 2%. Operating expenses, on the other hand, increased by 18%. As a result, operating profit for the app family fell 29% year over year. This $3.7 billion drop significantly eclipses the Metaverse's approximately $1 billion loss (reported in the Reality Labs segment).
The user numbers, on the other hand, don't look too bad. The number of daily active members across the app family (including Facebook, WhatsApp and Instagram) grew 4% to 2.93 billion. But the problem is pricing: the price per ad is down 18% year-over-year, while the number of ads served is up 17%.
This drop in prices can be attributed to two factors. On the one hand, Apple's (NASDAQ:) efforts to achieve ATT (transparency in tracking applications used) is compressing Meta's ad revenue. After the fourth quarter results, Meta projected that it would lose about $10 billion in revenue this year due to the ATT rules. This report triggered the continued fall of the META stock.
The second issue, also cited by Meta management, relates to macroeconomic challenges. The global economy is battered and the online advertising industry is not immune to the consequences of such a scenario.
However, this statement requires a bit more careful consideration. As I wrote here in August, prices are approaching the post-pandemic average. Low advertising rates are therefore not directly linked to the economic downturn. Because global macro data isn't (yet) that bad.
Meta's app family is operating well above its pre-pandemic levels. That year, what was then Facebook generated $24 billion in operating revenue. In the first three quarters of this year, the app family earned another $32 billion.
Combined with the number of users, this seems like good news: app profits continue to grow. However, in the context of a post-pandemic environment, these numbers illustrate the crux of the matter: Meta's core business may or may not decline much, much more.
If the macroeconomic situation deteriorates further and/or the number of users starts to decrease, the overall profits will also continue to decline. In this context, the META stock does not really look cheap. Blaming Apple for its strict app user tracking policies is unlikely: Meta predicted an easing of headwinds from those restrictions in the fourth quarter, but revenue forecasts disappointed.
What's going on in the Metaverse?
Another takeaway from the results is that Meta will not reduce spending on the Metaverse. During the third quarter conference call, CEO Mark Zuckerberg was unequivocal on this point.
Investors made clear their displeasure with the Blue Network's investment offensive: In after-hours trading, Meta's losses accelerated during the conference call.
The problem is not only operating expenses, it is also capital expenditures. Rising capital spending is sucking the company's free cash flow, as a slide from the company's Q3 presentation shows: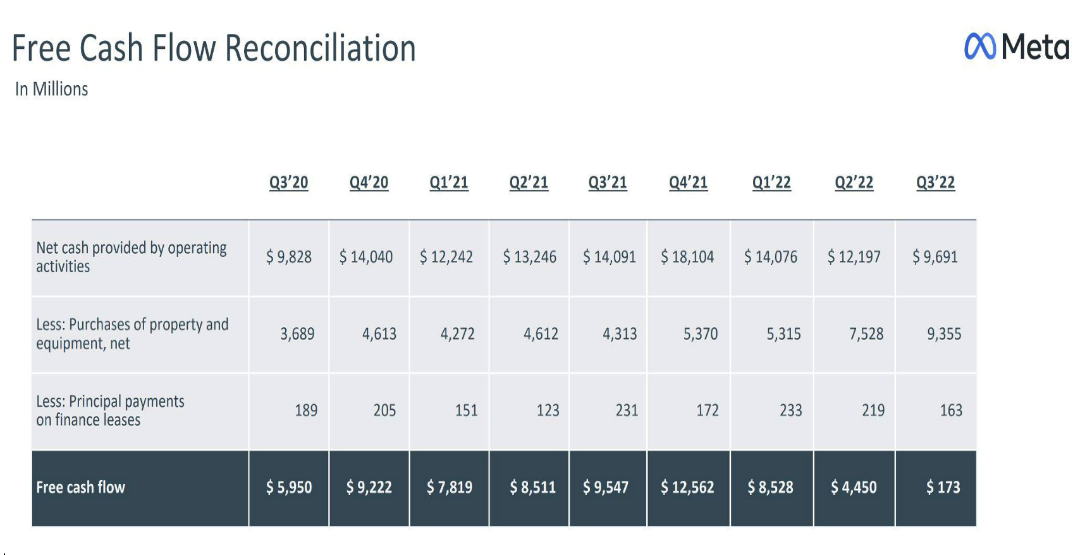 Free cash flow meta-reconciliation.
And operating expenses won't decrease either. For next year, Facebook expects operating expenses to increase between $94 billion and $99 billion (excluding an estimated $2 billion in incremental costs attributable to operating leases). For comparison: this year, it is 85 to 88 billion dollars.
That's a cost increase of more than 10%, although sales probably won't increase as much. (They could even fall.) As a result, Meta earnings will almost certainly decline, even taking into account recently lowered expectations for 2022.
Investors were probably not expecting such a grim scenario. The consensus on Wall Street prior to the release of the numbers even assumed a 7% growth to $10.49. The operating lease forecast should revise the forecast towards $8 with additional revision margin if the external environment weakens further.
The long-term outlook for META stock
Admittedly, even at an EPS of $8 (or worse) in 2023, META stock is relatively cheap. Without net money, META would be trading at 12 times earnings. If you subtract the metaverse losses, this value is even in single digits.
It's a multiple that suggests both its core business is in persistent decline and its spending on the metaverse isn't paying off. It's a combination that sounds very much like a worst-case scenario. However, it's also a combination that's not yet set in stone, especially if the app family's user base remains stable.
At the same time, it's not unthinkable that both halves of the meta business could go in the wrong direction. The success of metaverse efforts is completely unclear and at the same time consumes gigantic resources. Meta plans to build what is essentially a whole new area of ​​computing – the Internet as we know it now was built with billions of dollars over decades.
TikTok remains a major challenge for Meta's family of apps, and Meta's shift to video content via Reels and other efforts suggests permanently lower monetization potential for users.
So, for now, it's safe to assume meta wins have peaked. And it is this risk that investors will focus on until Meta gives them enough reason to interpret things differently.
What worries us about the third quarter performance is what Meta communicated: the company is not particularly keen on naming these types of dynamics. Zuckerberg wants to be number one in the Metaverse no matter what, and he won't let META's stock price change his plans. Any investor even considering this stock should be aware of this and be prepared to hold onto this investment until Zuckerberg's company thrives – or changes course.
disclosure: Vince Martin is not currently invested in any of the stocks discussed here.