Cryptos are more transparent than you might think. What crypto fans don't like to hear should inspire investors: Bitcoin and Co prices can be predicted with two simple factors.
You don't have to be an expert to see that the crypto market around Bitcoin and Ethereum is down. The catastrophe of Celsius, the TerraUSD stablecoin that brought down the Terra ecosystem, and now the bankruptcy of crypto exchange FTX have rocked the industry. Compared to the all-time high of November 10, 2021 at exactly $69,000, Bitcoin crashed more than 75% in early December 2022, taking much of the crypto market with it. Because if Bitcoin loses as the main cryptocurrency, then 99% of all altcoins also lose – and usually even more. But this is exactly what creates good opportunities for investors. And in the end, these events and business failures don't have much impact on the market. Because whether cryptocurrencies rise or fall depends mainly on two simple numbers: US interest rates and the price of the US dollar index.
The crypto market is so easy to understand
One look at these two metrics is enough to identify an overall trend in cryptocurrencies. This does not refer to day-to-day performance, but rather to long-term development. The simple formula is: if interest rates rise in the United States, cryptocurrency prices fall. When overseas interest rates drop or remain at fairly low levels, cryptocurrencies rise. Because the evolution of interest rates is very closely linked to the US Dollar Index, but not only, this also applies to the Dollar Index: if this index, in which the US dollar appreciates against a basket currencies around the Euro, Swiss Franc, British Pound and Japanese Yen are weighted, cryptocurrencies fall and vice versa. This dependency is clearly visible in both graphs.
What is striking here is that Bitcoin and Co can only rally if interest rates are low or, even better, if they fall and the US dollar index falls. Bitcoin hit its 2017 high just as the US dollar index started rising again. And Bitcoin also hit its first high in 2021 when the dollar index bottomed out. The second year-end high then became the first minor anomaly. However, ever since the US Dollar Index surged, cryptocurrency investors haven't stood a chance – they've fallen sharply. The bankruptcies of Terra, Celsius or FTX were then simply the result of a weak market, little volume and therefore little turnover for the companies. But they weren't the reason for the crash involving Bitcoin and Co. Because Bitcoin and Ethereum blockchains weren't affected at all by this market turmoil.
The perfect mix for a turnaround in cryptos
Given that the US Dollar Index is already very high and US interest rates are likely to have peaked soon, crypto investors may have legitimate hopes of a turnaround. Of course, a new all-time high will not come immediately. This will probably not be achieved for months after the next halving in 2024. Because so far there have only been large rallies after the bitcoin halvings, which take place every four years and in which the number of bitcoins distributed every ten minutes is halved for each new block found. But cryptocurrencies can easily double over the next year, assuming interest rates actually start falling next year. Now is the time for investors to take a position in the crypto market.
The words of US Federal Reserve Chairman Jerome Powell on November 30 are also encouraging for crypto investors. Because Powell said interest rates will only be raised moderately and markets are now pricing in a peak near. As a result, the US dollar dropped and cryptocurrencies were able to rise significantly. The FedWatchTool also shows that the market expects interest rates to peak around 5% and that rates could start falling in 2023.
Better and much more than Bitcoin
In the end, however, the crypto market does not consist solely of Bitcoin. The oldest cryptocurrency in the world now only accounts for around 40% of the crypto market capitalization. The biggest coins cover very different areas of the crypto cosmos. Bitcoin presents itself as a digital store of value, Ethereum as a blockchain computer on which many other cryptographic applications such as DeFi or NFT run. Cardano is a competitor to Ethereum and wants to be even more scalable and efficient, while Polkadot wants to allow different blockchains to communicate and exchange data with each other. Uniswap is the coin of a decentralized crypto exchange where you can trade tokens. XRP is a coin that banks and payment brokers are supposed to use in international payment transactions, Litecoin is a simpler and faster version of Bitcoin, Dogecoin is a fun currency that works similar to Bitcoin, Solana is a open source project that works mainly in the field of decentralized finance (DeFi) is deployed, and Polygon is a blockchain that works on top of the Ethereum blockchain and aims to make everything even more scalable. And what is interesting is that many of these altcoins performed better than Bitcoin during the last bull market. However, they are also riskier. The BÖRSE ONLINE editorial team created the BÖRSE ONLINE Best of Crypto Index so that investors can spread their risk while benefiting from the future growth of the crypto industry.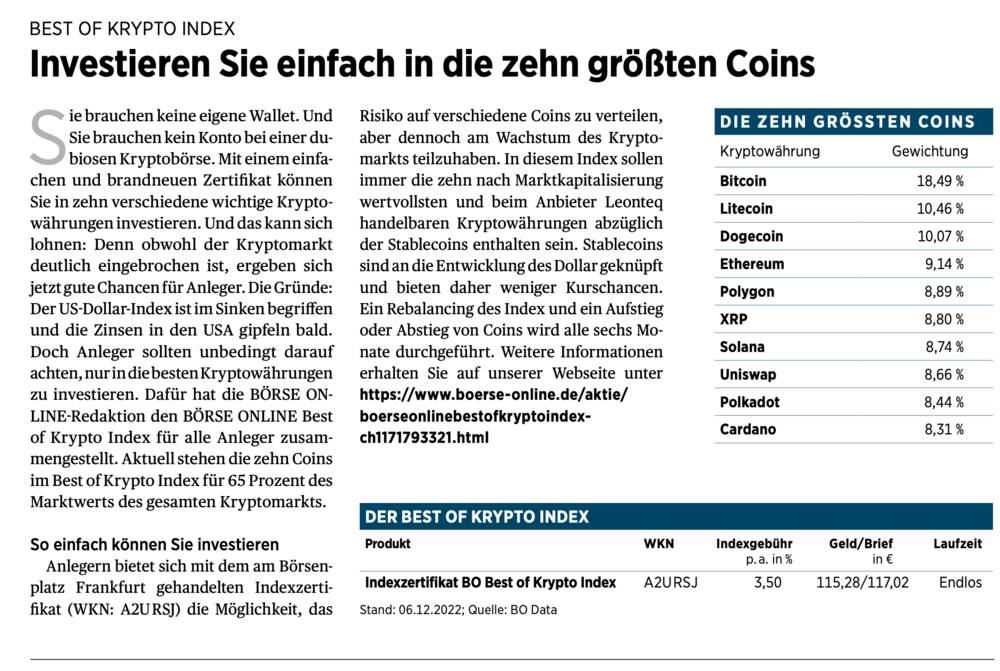 This article first appeared in BÖRSE ONLINE 49/2022. here preview the magazine.
The price of financial instruments is derived from an index as the underlying. Börsenmedien AG developed this index and owns the rights to it. Börsenmedien AG has concluded a cooperation agreement with the issuer of the securities presented, according to which it grants the issuer a license to use the index. In this respect, Börsenmedien AG receives remuneration from the issuers.
Conflict of Interest Notice
The author holds direct positions in the following financial instruments mentioned in the publication or related derivatives which may benefit from any price developments resulting from the publication: Bitcoin, Ethereum, Solana, Polkadot, Polygon
Conflict of Interest Notice
The CEO and majority owner of the publisher Börsenmedien AG, Mr. Bernd Förtsch, has taken direct and indirect positions in the following financial instruments mentioned in the publication or related derivatives which may benefit from any price movements resulting from the publication : Bitcoin, Ethereum