The price of Tezos (XTZ) continued its downward trend on Wednesday, even after some encouraging news on the ecosystem. It has now fallen to its lowest level since November 30.
The native token XTZ is currently trading at $0.989. This price is only a few points above the year-to-date low of $0.910. Overall, it's down more than 35% since the peak in November.
Tezos NFT sales increase
Tezos is a leading blockchain project offering smart contract solutions in decentralized finance (DeFi), non-fungible tokens (NFT), and GameFi. Some of the top apps in this ecosystem are Tezotopia, Circuit Breaker, Pixel Potus, and Emergents.
This project is best known for NFTs. Its technology is used by renowned sports clubs, including Manchester United and RedBull Racing. Hence, millions of fans around the world are familiar with this brand.
The price of Tezos has fallen over the past few days due to the general situation in the crypto market. The prices of most cryptocurrencies, including Bitcoin and Ethereum, have continued to decline in recent days.
The reason for the decline was the latest data from the US labor market, which indicated that the US Federal Reserve would maintain its hawkish stance. The figures show that 283,000 new jobs were added in the United States while the unemployment rate remained at 3.7%.
Additionally, the crypto industry is still suffering the consequences of the bankruptcies of FTX and Alameda Research. Investors fear there will be a domino effect if the crisis spreads to other companies in the sector.
As a result, the fact that the trading volume of Tezos NFT has increased recently has not been a catalyst for the recovery of the native token. US$1.79 million of NFTs were sold in November, a significant increase from US$1.4 million in October. In September, the trading volume was $1.33 million, compared to only $659,000 in August. This is a sign that the trend is positive despite the challenges in the crypto industry.
XTZ Price Prediction
The price chart shows that XTZ price has made a bearish breakout over the past few days. This drop occurred after the coin formed a rising wedge formation, shown in black. A rising wedge is usually a bearish sign.
The current price of Tezos is below the moving average lines and slightly above last month's low of $0.909. The Relative Strength Index (RSI) fell below neutral. Therefore, the price of XTZ is likely to continue falling as sellers target last month's low. A move above the $1.004 resistance would invalidate the bearish view.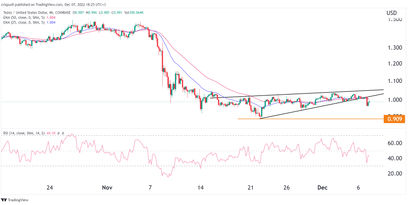 On this page we explain how to buy or short sell Tezos (XTZ).