We are back in Crypto Valley. Given the hot summer temperatures, most people head to the "pool" to cool off in the lake. This is not the case for some students at Lucerne University of Applied Sciences and Arts (HSLU) and its partner university, the University of British Columbia (UBC) in Vancouver, Canada. Multidisciplinary teams crowd into the summer school and then develop exciting concepts in the "Block-a-thon for Good".
But out of nothing. The common history of the two universities goes back four years. The Canadian Ambassador was accompanied by Professor Victoria Lemieux and Professor Dr. Tim Weingärtner introduced them and mutual visits followed. The potential that cooperation would offer was quickly recognized and the cooperation implemented. At a multidisciplinary workshop in Vancouver (2019), the "3-layer model" for blockchain designs was developed. According to this model, a project starts with the social level (ecosystem), building on it follows the business level (information, data, layers) and finally the technology (computing, engineering and consensus mechanisms).
Block-a-thon for good
Teacher. Dr. Weingärtner served as a judge at the annual Block-a-thon for Good, a coder event for crypto enthusiasts. The focus here is clearly on social issues and how technology can help solve these issues. The personal commitment of everyone involved over the following years led the two institutes to decide to take their cooperation a step further and to realize this block-a-thon together – with students from Switzerland and Canada. The planning horizon for such a project is long, so it had to be decided in February that Canadian students would not physically meet their campaign comrades in Switzerland, but via a hybrid model. Nevertheless, nothing has stopped Professor Lemieux and she is taking advantage of her sabbatical year to support the Swiss students there.
The reason is for Professor Lemieux, who built Blockchain@UBC and recently published a book:
Every time I run one of these summer institutes, I meet new people, learn something new, and get a lot of joy from helping students launch their careers, seeing them working in this new industry and all the creativity that comes with it. succeed. Blockchain is still a young technology that attracts many people who think outside the box. I think first and foremost they are willing to take risks to come and learn when maybe other people are lying on the beach. That's why I do it, because it's just so much fun!

Professor Lemieux
The blockchain helps
This year's Block-a-thon for good focuses on the question "What if you had to flee your homeland, either because of conflict or because of climate change?" ". The team was already dealing with the subject before the start of the Ukrainian war and is now more relevant than ever. The HLP (Home Land Property) theme is intended to help people in the future who, for whatever reason, had to flee their home country and usually left behind all their documents (ID cards, housing title deeds, etc.). The solution to be developed should enable these people to begin transitional justice processes as soon as they return to their country.
The problem to be solved is discussed, but how do the students find possible solutions? A great help lies in the establishment of the Summer Academy. The first week is dedicated to building a foundation. Students learn to design such a project using the 3-layer model. They are not supposed to focus on the technology first, but on the social problem and work their way up to the technology. Various workshops were also held to strengthen the knowledge base: Ethereum as an example of permissionless blockchain, Self-Sovereign Identity, DeFi & Crypto Economics and DAO.
In the end, the interdisciplinary teams were completely free to implement their idea. Among the participants are students from the fields of business computing, artificial intelligence, computer science, engineering and archival science, who worked together on their ideas during the second week. It is a great pleasure for the teachers present to observe how the participants put into practice what they have learned and how creatively they approach problems. And it's not just theory that is put into practice. Students also learn to discover the world of work today. They work together physically but also remotely, they adapt to different cultures and diversities and also to work in different time zones. So many challenges for their future world of work.
read also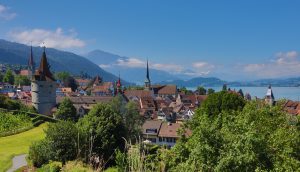 For career and further development
However, a question remains open. What motivates participants to be here and not on the beach? André Reichmuth (business informatics student) sees the summer school as a great opportunity to take a closer look at blockchain technology and, of course, to do something for your own CV. For Jaron Matzinger (Student Artificial Intelligence, Machine Learning), it is quite clear to invest some of the semester breaks to acquire additional know-how in addition to his field. "I want to do what I really want to do and what I really want to learn during the holidays".
Aurelio Schmid (student in management informatics) also joins his classmates. The summer school also offers him an additional opportunity to broach the subject of blockchain even more: "For me, the summer school is also a great opportunity to get to know a partner university and thus promote this exchange. international". Aurelio sees himself more on the business side of his studies in business informatics: "My main objective is to build the theory in order to be able to assess what the potential of a project is and where the challenges lie". This knowledge will be a good guide for him in his career.
And the future? Both universities look forward to continuing their cooperation. If possible, Canadian students should actually physically come to Switzerland next year and the summer school should then take place for everyone in Vancouver the following year. It would also be wonderful if Swiss students took courses at UBC to work with the professors there and learn from them and with them, and everything would also go the other way. It would also be exciting for Canadian students to experience Crypto Valley on their own, and according to Prof. Lemieux, Swiss students would also be amazed at what a great ecosystem awaits them in Canada.
There is only a little paperwork between many ideas and plans and their implementation.
Do you want to buy cryptocurrencies?
eToro offers investors, from beginners to experts, a complete crypto trading experience on a powerful yet easy to use platform. We took a close look at eToro.
To the eToro review
The latest issues of BTC-ECHO Magazine
You might also be interested in