Hedera's NFT market is currently experiencing a drastic increase. While the trading volume of various collections has doubled in a very short time, the total trading volume of the NFT market leader "Zuse Market" exceeded 100 million HBAR a few days ago.
As evidenced by the trading volume on Hedera, the ecosystem's NFT marketplace is booming. The Hangry Barboons collection alone reached a trading volume worth 2.1 million HBAR in the past 30 days.
But other collections, such as Planck Epoch, Return Pass and Gangsters Paradise, also showed an impressive upward trend. The latter project proved to be particularly strong last month with a trading volume of over 1.6 million HBARs.. The best collections on the market are Dead Pixels Ghost Club, Hangry Barboons, CyberHedera Gen 1 and HBAR Shady'z Gen-01.
On November 24, NFTs hit the Zuse market Total transaction volume over 100 million HBAR. Zuse Market is currently seeing between 200 and 600 buyers per week and an average of around 1,400 sellers – there is obviously always a lot of interest.
Zuse Market is both an NFT launchpad and a marketplace. The Hedera-based NFT platform went live in February 2022 and has seen steady and strong growth in trading volume since then, especially since the second quarter of 2022.
In Q3, the blockchain project even made headlines when LG announced the launch of its Hedera-based NFT project, LG Art Lab. The company is a member of the board of Hedera.
TVL on Hedera shows strong growth
With impressive monthly growth of 10%-15%, Hedera's Total Value Locked (TVL) looks just as unaffected by the bear market as ecosystem NFTs. TVL currently stands at $23.3 million, with most of it coming from Stader liquid staking solution. The remaining volume is mainly held by SaucerSwap, HeliSWap and Bubbleswap DEXs.
At the end of the third quarter, Hedera's TVL exceeded $100 million, up 171% sequentially. Although these numbers have been declining since the crypto crash, the stable HBAR rate demonstrates the community's seemingly unwavering optimism.
HBAR rides on positive news
Over the past seven days, the HBAR rate has increased significantly. From $0.044 at the start of last week, it then surged to $0.0495 – growth of 11%.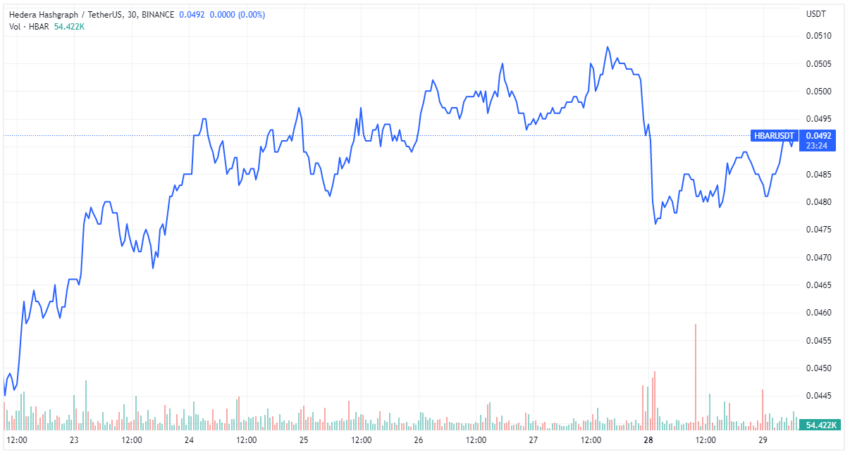 The price increase over the past few months is partly due to the HBAR staking introduced in October. However, the listing on Coinbase and some other positive news also influenced the impressive growth of Hedera lately.
Want to talk to like-minded people about the latest news and developments? Then join our Telegram group here.
Disclaimer
All information contained on our website has been researched to the best of our knowledge and belief. Journalistic contributions are for general information purposes only. Any action taken by the reader based on information found on our website is entirely at their own risk.